Archive
This post is archived and may contain outdated information. It has been set to 'noindex' and should stop showing up in search results.
Mobius ActionCam Review - Dash Cam with Wide Angle "C" Lens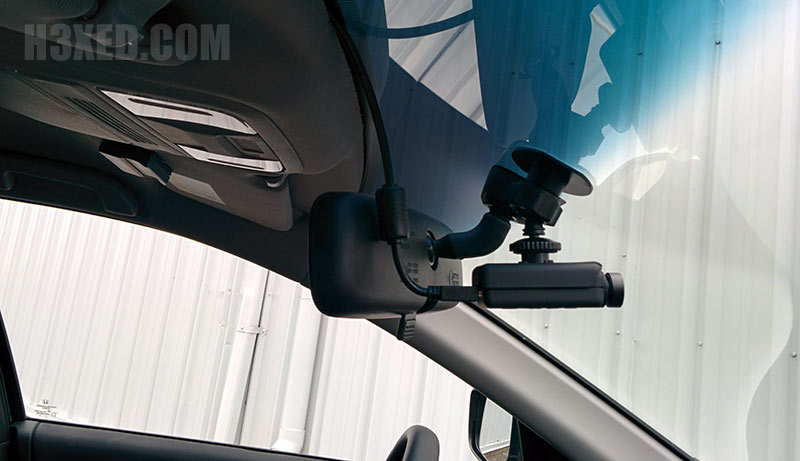 The Mobius ActionCam is a low-cost camera with a very small footprint. It can be used as an inexpensive alternative to a GoPro or as a discreet dash cam. It is highly configurable, both from a Windows program or
Android app
(for Android you'll need an
OTG adapter
), and can shoot video in 1080p at 30 fps or 720p at 60 fps.
I purchased the latest version of the Mobius (V3), which comes with the wide angle "C" lens and 820 mAh battery, for use as a dash cam. I did a great deal of research on dash cams beforehand, and had these primary requirements, which the Mobius meets:
Must be very small and discreet.
Must be able to view footage on my phone.
Must be inexpensive.
Must start recording automatically when the car starts.
Must delete old recordings as new footage records (cyclic recording).
Must require no hard-wiring.
Must record in high-quality (1080p).
Not having a screen is okay as I can view the footage on my phone using the OTG adapter and USB memory card reader. It allows the dash cam to be very small, which means less of a theft risk and it doesn't block visibility. After everything was totaled, including a 32GB memory card, I spent only $113.
What You'll Need
The Mobius is available from many sellers on eBay, Amazon, and through the manufacturer website. The cheapest you'll find it at is from
this eBay seller
. They are located in China though, so it could take several weeks to receive it. I didn't want to wait that long, so I found a good seller on Amazon to purchase from (
Novotm
), and had it 3 business days later via USPS.
For my setup, I wanted a compact window mount and a long USB cable to run to my power adapter in the center console. For this you'll need:
1. Mobius ActionCam
The basic Mobius package, which comes with the ActionCam, mount adapter, USB card reader, and short USB data cable.
2. Window Mount
The 3M adhesive mount is more compact than the suction cup mount, so go with this one if you're concerned about how much space it takes up.
3. 15ft USB Cable
This cable is for charging only. At 15ft long it was the perfect length to run around the windshield, down the trim, along the floor, and into the center console storage compartment, where it plugs into the car's USB outlet. If your car has a power adapter or USB plug-in in a different spot, be sure to route the USB cable accordingly. If you need a USB adapter for the car lighter plug, try
this one
.
4. Kingston 32GB Memory Card
Mobius recommends authentic Kingston brand memory cards. There are other brands that are a little cheaper, but I didn't want to take the chance of an incompatibility.
Camera Footage Examples
Here is some footage I have taken with the Mobius. A dirty windshield and direct sunlight can diminish the quality a bit. Keeping the windshield clean inside and out makes a noticeable difference. You can see that my windshield is not super clean here, which will probably represent your average footage unless you're a car cleaning nut.
These are YouTube embeds. Be sure to view in full screen and change the resolution to 1080p (it make take a few seconds to switch depending on your connection speed). YouTube's default playback will likely be low quality.
Sunny Daytime FootageRainy Overcast FootageDark Parking Garage FootageNight Footage
Impressions
The Mobius does a great job as a discrete dash cam. I forget it's there most of the time, which is precisely what I wanted. It fits snugly in front of the rear view mirror so as to be completely out of view while driving: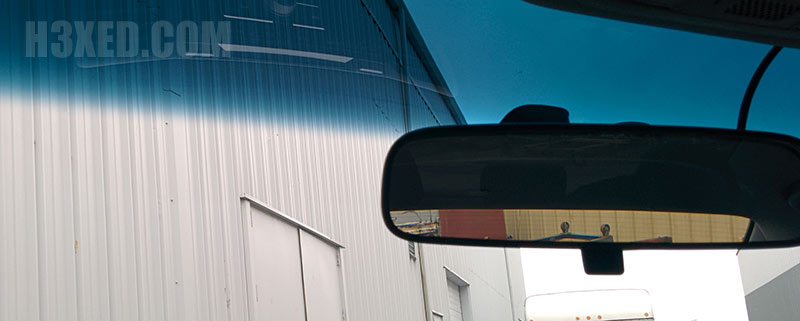 It has been 100% reliable, and I've been using it for about 30 days so far (30+ minutes per day).
The camera adjusts to changes in light well when transitioning to different brightness areas. The video quality is very good for only spending $113. The quality of the hardware feels great as well.
When I want to view footage I usually pop the memory card out (it inserts into the back) and use the memory card reader that I keep in the center console along with my OTG adapter. You can also plug in a USB data cable into the camera while still mounted and view the footage on your Android device.
It took time to get used to the LED codes, since there is no screen to indicate the camera's status. You need to learn about the different colors and blinking rates to know what the camera is currently doing. It's not as difficult as it sounds, but expect to spend a half hour to become well-acquainted with it.
The camera does record audio by default, and that can be configured in the settings program. I personally don't feel like recording my ramblings throughout the day and wasting extra bytes, but I do have Mode 2 set to record audio should I need it (the camera has two modes that can be configured independently).
Wide Angle
The "C" lens is the latest wide angle lens for the Mobius at the time of writing. The regular lens is still available, and some people prefer that. The wide angle does give a fish-eye look on the edges of the screen, which is understandable given how much more is in view. The wide angle lens allows you to nearly see both A pillars, which is remarkable given it is mounted to the windshield.
Installation Shots
Here are some additional pictures of the Mobius installed.