Archive
This post is archived and may contain outdated information. It has been set to 'noindex' and should stop showing up in search results.
How to Connect a USB Drive to an Android Phone or Tablet
Most Android devices allow you to connect a USB drive, or other various USB devices, even if they don't have a USB port. The capability comes from a USB OTG (on-the-go) host adapter that plugs into the micro USB port on the Android device and has a full-size USB receptacle.
Adapter
There are many different types of OTG adapters. Some have cables and some are smaller than a USB drive. I personally like this one, which is shaped like a little Android: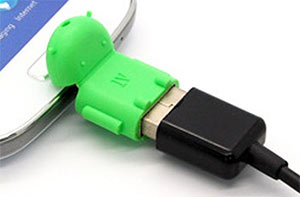 Check Current Price
The head of the Android protects the micro USB port when not in use.
Software Required
Some phones, such as the Samsung Galaxy S series, will have the ability to detect the contents of the USB drive right away. Other phones, like the Nexus line, require an
OTG USB File Manager app
from the Play Store.
Other USB Devices
You're not limited to just USB drives. You can also plug in controllers, mice, and other USB devices into the adapter.