Archive
This post is archived and may contain outdated information. It has been set to 'noindex' and should stop showing up in search results.
Hard Drive Cost/GB Chart for September 2010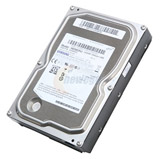 This is a comparison of desktop computer 7200RPM 3.5" SATA hard drives. Prices were obtained at Newegg and include shipping and discounts where applicable (mail-in rebates not included). All drives have a 70% or greater 5/5 egg rating. The Ratio is the number of gigabytes each dollar purchases, so the higher the better.