Archive
This post is archived and may contain outdated information. It has been set to 'noindex' and should stop showing up in search results.

Dell Alienware X51 & Aurora Price Comparison With Custom-Built Gaming PC
Here is a comparison of the two Alienware Windows gaming PCs (X51 and Aurora) to custom-built gaming PCs to see how the prices stack up. This will help give an idea on the kind of markup Alienware (Dell) adds to their computers. Afterwards, you may find that building your own gaming PC is an attractive option. I will not be comparing the Alienware Alpha, which runs Steam OS.
Prices and components were gathered August 2014 and may become outdated as new models are released. You can also see the new Area 51 comparison here.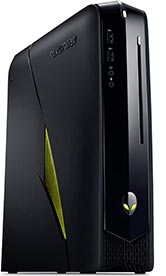 Alienware X51
The X51 is a small gaming PC about the size of a console. It has a low base price, but will need to be configured higher to play games at 60 FPS on high (the base i3 and GTX 745 are
not sufficient
).
The CPU options for the X51 are the Core i5 4460 and i7 4790 (both quad-core). The GPU options are the Radeon R9 270/270X and GeForce GTX 760 Ti. The GTX 760 Ti can play most games at 60 FPS on high settings and is best for this configuration. The small size of the X51 limits more powerful options, which is why slim cases like this are not ideal for gaming PCs.
The GTX 760 Ti is an option only with the Core i7. The Core i5 and R9 270X configuration is a significantly worse value anyway, with less memory, no keyboard/mouse, and reduced performance, for only $100 less. There is also an SSD option, but it costs $300 (three times market value).
The best configuration of the X51 is the Core i7 with GTX 760 Ti for
$1,299
(plus applicable tax). It contains:
Core i7 4790 Quad-Core
GeForce GTX 760 Ti 2GB
16GB memory
1TB HDD
Windows 8.1 64-bit
DVD Burner
Keyboard and Mouse
X51 Custom-Built PC Equivalent
Using PCPartPicker
here is a custom PC
that is equal to or better than the X51. It uses a slim case and a gaming keyboard/mouse combo. The main difference is the graphics card, since the 760 Ti is OEM-only and not available aftermarket. I instead chose the GTX 770, which will outperform the 760 Ti. The total price came to
$1,174
(prices may fluctuate). Keep in mind that in most cases there will be no tax on this, depending on your location and what marketplace you purchase from.
Summary
| | |
| --- | --- |
| Alienware X51 | $1,299 + tax |
| Custom Built | $1,174 |
The Alienware X51 is not a great gaming PC. It's small case limits part options significantly. The CPUs and GPUs that are offered by Dell in each configuration are unbalanced without more powerful GPU options. If you must have a small PC, it is decently-priced compared to an identically-equipped custom build, but the custom-built PC offers much more flexibility to balance out the components for an overall better gaming PC (e.g. save money on the CPU and memory to put into a better GPU).
Building a custom gaming PC is always done better with a mid-size tower. In the next comparison with the mid-size Aurora this will become apparent. Mid-size cases and components allow for much greater performance for the dollar when building a custom PC.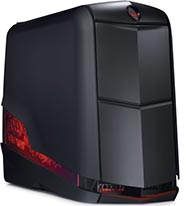 Alienware Aurora
The Alienware Aurora is a mid-size desktop gaming PC with a traditional-sized case allowing for easy upgrades and more part options. It's base components are very good with the glaring exception being the graphics card. The base R9 270 is unbalanced in this configuration and needs to be upgraded.
Looking at the four pricing columns provided, it is most cost-effective to upgrade the base model. A great graphics card for this configuration is the Radeon R9 290X. It performs
near the top
of single-GPU cards while still being affordable. The GTX 780 Ti would be a good choice as well, but is not offered.
With a memory upgrade to 16GB, the Aurora in this configuration costs
$2,199
. An SSD upgrade would be nice but it is extremely overpriced from Dell, just like with the X51. This setup contains:
Core i7 4820K Quad-Core
Radeon R9 290X 4GB
16GB memory
2TB HDD
Windows 8.1 64-bit
DVD Burner
(No Keyboard and Mouse)
Aurora Custom-Built PC Equivalent
Using PCPartPicker
here is a custom PC
that is equal to or better than the Aurora. It uses a very nice mid-tower ATX case and is otherwise equivalent. The total price came to
$1,373
(prices may fluctuate).
Summary
| | |
| --- | --- |
| Alienware Aurora | $2,199 + tax |
| Custom Built | $1,373 |
The Alienware Aurora is a great gaming PC and has many configuration options, but you pay a very steep price for what you get. It is substantially more expensive than an equivalent custom-built PC. Alienware also charges an excessive amount for a 256GB SSD. What costs over $300 from them can be had for the low $100 range elsewhere.
The price of a custom-built mid-sized gaming PC is barely more than the significantly-slower X51 and slim-case build. The flexibility and options in the mid-size range allow for much better components at a low cost. If you're serious about building a gaming PC, creating your own mid-size build would be the most ideal thing to do.