Archive
This post is archived and may contain outdated information. It has been set to 'noindex' and should stop showing up in search results.

Dell Alienware Area 51 Price Comparison To Custom-Built Gaming PC
This is a comparison of the Dell Alienware Area-51 Windows gaming PC to a custom-built gaming PC with equivalent performance and function. Prices were gathered using PCPartPicker.
Note
Prices are from Jan 7, 2015 and will become outdated as time moves on.
Prices are from US merchants and may not be available in other countries.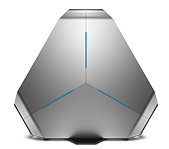 Alienware Area-51
After a brief hiatus, the Alienware Area-51 gaming PC is back on
Dell's website
. The 2014 model comes with a unique triangular-shaped case that has excellent cooling and many well-thought-out features, including port access and portability (
full case features & specs
).
Price
The Area-51 starts at $1,699.00 and has four upgrade tiers as well as individual configuration options. In its base model form, the Area-51 is equipped poorly. The Radeon R9 270 2GB GPU and 8GB of memory are mid-range components and not suitable for a high-end comparison. They're very unbalanced compared to the CPU.
Configuration
For a good comparison I configured the Area-51 with a GeForce GTX 980, 16GB of memory, and the 128GB SSD + 2TB HDD combo. This brought the price to
$2,549.00
and includes these primary components:
Core i7-5820K 6-Core 3.3 GHz (3.8 GHz turbo)
GeForce GTX 980 4GB
16GB Quad-channel Memory (4x4GB)
128GB SSD + 2TB HDD
View the
complete specs here
as configured (first column).
Custom-Built PC Equivalent
Using PCPartPicker, here is a gaming PC that is equivalent to the Area-51 in performance and function.
A Note About The Corsair Case
One of the Area-51's big selling points is its case. It has a very unique design and build that can't be replicated by any aftermarket case. The case I chose for this comparison is the Corsair Carbide 400R, which is a very high-quality tower case with all of the necessary functionality and excellent cooling options. Despite this, it may be noisier than the Area-51 and will lack the
unique design features
that set the Area-51 apart from other PCs. The Area-51 really is a unique PC, so if you desire its design and features, you likely will not be satisfied by any other normal PC case.
Totals
The custom-built PC with Corsair case comes to $560 less than the Area-51, which is enough money to build a complete separate
budget gaming PC
(for your little brother perhaps) or maybe a nice
1440p monitor
.
| | |
| --- | --- |
| Alienware Area-51 | $2,549.00 |
| Custom-Built Mid-Tower | $1,988.37 |
My Takeaway
I must admit, after doing this comparison I don't think the Area-51 is terribly overpriced for what you get. If the case design and Dell support are worth $600 to you, and you're okay with the limited GPU, SSD, and HDD choices, then the Area-51 is a good buy.
Things To Consider
Here are some other things to consider when comparing the Area-51 to a custom-built gaming PC:
Sales Tax
Dell charges tax where applicable, which will increase the price of the Area-51 by a couple hundred dollars depending on your state and county. Most custom-built vendors, such as Newegg and NCIXUS, do not charge tax unless you're in a state they operate in.
Customization
The biggest advantage of the custom-built PC comes from its customizability and not having to fit into one of Dell's tiered columns. You can make the PC to suit your needs and save money in the process. For example:
If you don't need WiFi, Bluetooth, or a media card reader, you can save around $65.
If you don't plan to ever utilize SLI, you can save around $50 by going with a lower wattage power supply.
If you already have an operating system, or plan to use Linux, you can save around $90 by not having to purchase Windows 8.1.
If you will be primarily gaming, you can save $100 to $200 by going with a Core i7-4790K, LGA 1150 motherboard, and DDR3 memory. This will have little to no effect on gaming frame rates.
Storage Options
Dell offers the Area-51 with a 128GB SSD + 2TB HDD combo, and on the higher tier a 256/512GB SSD + 4TB HDD combo. Unfortunately, you cannot choose any other combination of storage options. On a custom-built PC, you could choose any combination of SSD and HDD, or just go with an SSD. A single 512GB SSD will cost about the same as the 128GB SSD + 2TB HDD combo, and may be an excellent choice for someone that doesn't need a lot of storage space.
Wait Time
Dell usually takes a week or two before shipping, plus time in transit, especially if you have an uncommon configuration. With a custom-built PC, you will usually have your components within 3-5 business days.
Size & Weight
The Area-51 weighs 61 pounds and is 22.4" x 10.7" x 25.2" in dimensions (
source
). While it doesn't fill the entire space due to its triangular shape, it still takes up a very large footprint on any desk or floor space. The Corsair-based custom PC is 19.80" x 8.10" x 20.50" in dimensions and will weigh between 30 to 40 lbs once fully built. The Area-51 also does not have a large top surface if you like to set things on your case.