Disable FileZilla Notification Bubble in Windows
Please note that this post is over a year old and may contain outdated information.
With version 3.15 of FileZilla FTP, the developers have added a notification bubble that pops up when transfers are complete and FileZilla is not in the foreground. With version 3.16 they made the bubbles pop up whether FileZilla is in the foreground or background. Disabling these notifications isn't immediately obvious. Here is how.
On version 3.15, you had to manually edit the filezilla.xml file and add:
<Setting name="Show notification bubbles">0</Setting>
With version 3.16, you can right-click in the "Queued Files" area and select "None" for the action to perform after queue completion: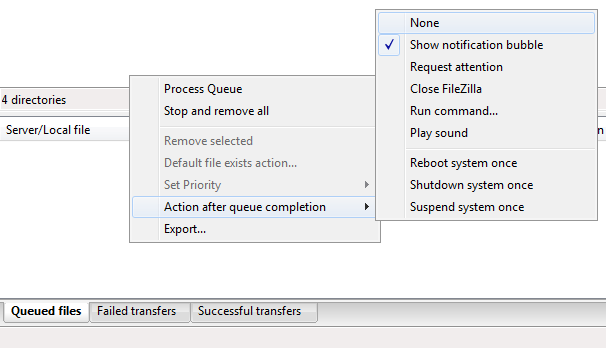 Doing so adds the following line to filezille.xml:
<Setting name="Queue completion action">0</Setting>