Terraria Multiplayer Lag Enemies Jumping Teleporting on LAN or Internet
Please note that this post is over a year old and may contain outdated information.
If you're experiencing lag, jumpy behavior, or enemies "teleporting" around when playing Terraria multiplayer, there are two common solutions. This can happen on both Internet games and over LAN.
Solution 1: Frame Skip
Turning off Frame Skip can alleviate this problem. Go into the Settings menu, click the Video category, and then click Frame Skip.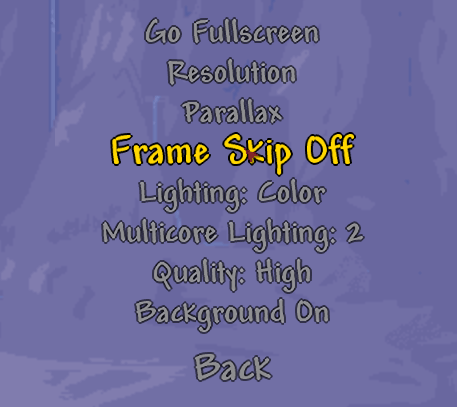 This can also potentially create problems, so change it back to "On" if you experience more lag with it off.
Solution 2: Graphics Settings
If your computer is unable to run Terraria at a smooth frame rate, you may experience lag in multiplayer. Turn down the graphics settings and see if this alleviates the problem. The biggest frame rate hit generally comes from lighting. Turn it to "Retro" for the best performance at the expense of visual niceness.
Graphics settings are also under
Settings › Video
. Here is an example with all the settings down as far as they go.