Archive
This post is archived and may contain outdated information. It has been set to 'noindex' and should stop showing up in search results.
Rage Unplayable on PC?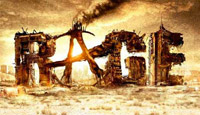 I just installed Rage and everything went smoothly. Fired up the campaign mode, watched the pretty intro movie, and then proceeded to get severe stuttering at the onset of the first level. It was completely unplayable for the few minutes I attempted to play it. Since I have an AMD/ATI video card (HD 6850), I decided to give the patch AMD just released specifically for Rage a try:
AMD Catalyst - Rage Performance Driver
.
After removing my old driver and installing the new one, I fired up Rage and was met with
even worse
stuttering, at something less than 1 frame per second, including worse audio stuttering than before.
I've decided to wait on the game for now until the issues are sorted. A graphics settings patch is coming soon for PC anyway. I've already looked into some of the configuration options via .cfg files and it looks promising. I'll post up a quick guide for that once I can actually play the game.
Update: On the bright side, Alt-F4 quits the game immediately.