All Your Favorite Bobby Kotick Quotes!
Please note that this post is over a year old and may contain outdated information.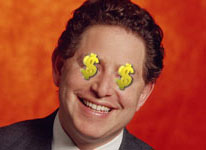 In case you don't know who he is, Robert (Bobby) Kotick is the CEO of Activision Blizzard, one of the largest "interactive entertainment" companies in the world. Through a "laser focus" on profits, Mr. Kotick has earned quite a
reputation
among gaming enthusiasts.
Many of the below quotes come from financial calls and the verbiage reflects this. We gamers understand the importance of profit, but feel that it should not be the main guiding principle in a gaming company.
Q1 2012 Earnings Call
"We continue to build a portfolio of mega franchises. In 2012, we expect to have at least 4 franchises that generate significant operating margins and contribute meaningfully to our company's profitability."
"We have approximately 50 million monthly active users across all of our franchises. And through high-margin online offerings like subscription and membership-paid services, digital downloads and value-added services, we are already able to deliver more value and choice to consumers than ever before."
"In addition to building our player communities and service platforms for the benefit of our shareholders"
Transcript
Q4 2011 Earnings Call
"focus on the largest opportunities that we believe will deliver the highest financial returns" (First guiding principle for Activision Blizzard's long term success)
Transcript
Financial Call February 2010
"If you think about the success that we've had in other product categories on subscription, you can get a sense of the direction that we want to take that franchise" (Concerning Call of Duty franchise)
San Francisco Deutsche Bank Securities Technology Conference 2009
"We have a real culture of thrift. The goal that I had in bringing a lot of the packaged goods folks into Activision about 10 years ago was to take all the fun out of making video games."
"I think we definitely have been able to instill the culture, the skepticism and pessimism and fear that you should have in an economy like we are in today. And so, while generally people talk about the recession, we are pretty good at keeping people focused on the deep depression."
"The best of all margins the 25 per cent operating margin business has the potential as we can see with World of Warcraft to be a 50 per cent operating margin business."
"really rewards profit and nothing else." (Concerning Kotick's incentive program for Activision employees)
Activision Blizzard Q2 2009 Earnings Call
"Long-term focus and commitment to providing superior returns to our shareholders."
"And Tony, you know if it was left to me, I would raise the prices even further."
Transcript
Activision Blizzard F2Q09 Earnings Call
"First, right now we are ahead of our plans to realize the benefits of the combined company, especially our key profit and profit margin objectives."
"Why don't we start with the Vivendi Games businesses -- there were a lot of different projects and businesses that we identified as not likely to achieve the profit margin potential that we look for."
"With respect to the franchises that don't have the potential to be exploited every year across every platform with clear sequel potential that can meet our objectives of over time becoming $100 million plus franchises, that's a strategy that has worked very well for us."
"And again, our strategy, narrow and deep, focus on properties that will sell to a very broad consumer base on the console -- those are strategies that seem to work well."
"there will continue to be opportunities for us to exploit the PC platform in ways that we haven't yet."
"It's harder to attract development talent to projects that are more speculative in the long run, and so what we found is that if you have a [need] for innovation in existing franchises, that's a recipe for margin expansion and you still need to have production of new original intellectual property, but you need to do it very, very selectively"
Transcript