How to Record the Screen on Android Lollipop 5.0 and Newer
Please note that this post is over a year old and may contain outdated information.
Recording the screen on Android used to be very difficult and required root. As of Android version 5.0 Lollipop, there is a built-in API that allows an app to record the screen with ease. The best part is that because it's a part of native Android, it works smoothly and doesn't slow the phone down.
What App to Get
At this time,
Lollipop Screen Recorder
seems to be a good screen recording app. Install it from the Google Play Store. Once installed, open it up and hit record. An Android system message will pop up informing you that the app would like to record the screen. Confirm it and the screen will start being recorded immediately.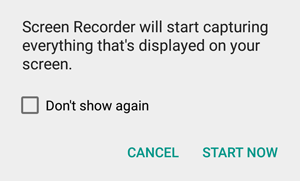 Note:
One big downside currently is that system audio cannot be recorded. This is a limitation of the Android API. Most recording apps get around this somewhat by using the mic to record the speaker audio. It works, but is definitely lower quality. Hopefully future versions of Android will introduce system audio recording as well.