How to Play Super Nintendo (SNES) Games on Your Phone
Some of the best games of all time were made for Super Nintendo, and it's easier than ever to play them on your mobile device or phone with near perfect functionality.
Playing an SNES game on your mobile device involves using an emulator app and having the game ROM. Read on for information on each and how to get them.
Emulator
The emulator app is the program that runs the SNES games. For Android I recommend
Snes9x EX+
, which you can install right from the
Play Store
. On iOS and iPhone it is more difficult due to Apple restrictions on emulators, so search the Internet for some methods to get around this. (Or consider
switching to Android
!)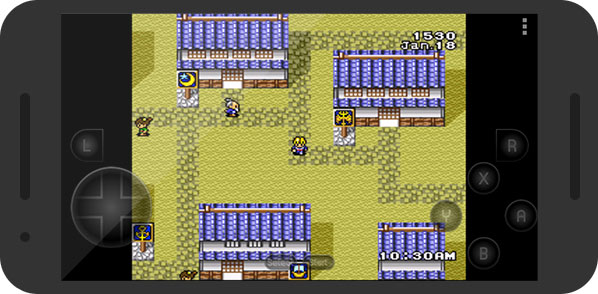 Uncharted Waters: New Horizons on a Nexus 5X
Games (ROMs)
A game for an SNES emulator is called a ROM. You will generally keep all of your SNES ROMs in a folder on your mobile device, and then select the one you want to play using the SNES emulator. Read on for how to acquire game ROMs.
Legal Disclaimer
It is not legal to download a game ROM unless you also own the original SNES game cartridge. By following these instructions, you are agreeing that you do own the original SNES game cartridge for any game ROM you download. H3XED and the author expressly disclaim liability for any illegal actions you may take.
You will have the best luck finding ROMs on a BitTorrent site such as The Pirate Bay. You'll first want to have a good Ad Blocker for your browser on your computer before venturing to these sites. I recommend uBlock Origin on the latest version of either
Chrome
or
Firefox
.
Once you have a good browser and ad blocker, go to one of the torrent sites. I won't post the links to them here as they change often. Just search the Internet for The Pirate Bay.
Once on the torrent site, search for SNES ROMs. You should find many torrents. Sort by the ones with the highest seeders. It will probably be a compilation torrent of every official SNES game ever made. Feel free to read the comments and make sure it's a good torrent. Once you've found the one you want, download it using your torrent program of choice (I recommend
qBittorrent
).
Gamepad
Playing using the virtual game buttons on the screen can be somewhat difficult, especially for fast-paced games. This is because your fingers don't receive the tactile feedback that a real SNES game controller and its physical buttons provide. It's very easy to miss a button or let your finger slide off when using the emulated virtual buttons on a touch screen.
One solution for this is to get a
gamepad for your phone
. There are many that physically connect right to a phone, treating it like a screen, and then link up using bluetooth. They come in many different shapes and sizes; some hold the phone above the controller while others come with two parts that snap to the sides of the phone. Just make sure you select one that is compatible with your device and has good ratings.