Archive
This post is archived and may contain outdated information. It has been set to 'noindex' and should stop showing up in search results.
How to Build an Inexpensive And Powerful Minecraft PC
Despite its looks, Minecraft can be a very demanding game. If your PC isn't up to the task, or you want larger view distances, read on to learn more about building a new one.
How Much Does it Cost?
You can expect to pay somewhere between $350 to $550 US, depending on how much of your current hardware you can reuse. If your PC is old (over 6 years old), chances are you won't want to reuse anything other than your keyboard, mouse, and other accessories.
Keep in mind that a good Minecraft PC is also a good all-around PC, capable of performing nearly any PC task with great speed. That includes photo editing, copying, zipping, opening programs, and web browsing.
The Build
I recently purchased the components for a new budget gaming PC and documented the process in detail, including a step-by-step guide putting it together. The total cost came to around $500, though prices fluctuate. The guide is aimed at beginners, so if you follow it closely you should have no problem building your own PC, even if it's your first time.
View The Complete Guide
Here is the final product (with a side panel removed so you can see the innards):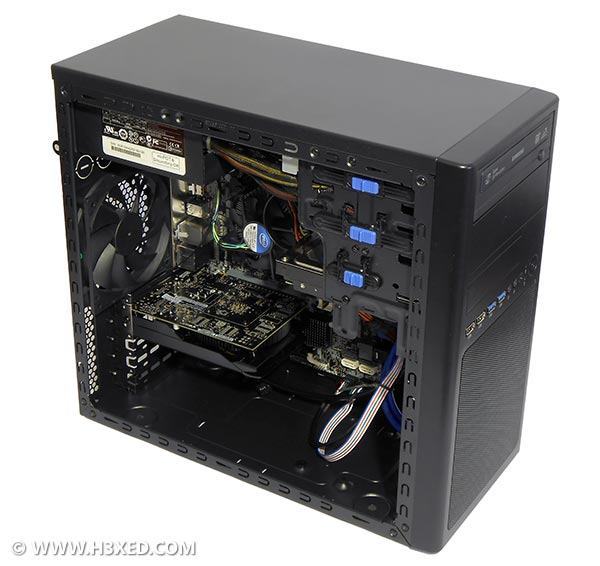 Performance & Benchmark
I followed the Minecraft
Hardware Performance Wiki
to get comparable results. At the default 854 x 480 resolution it averaged 230 frames per second (measured using Fraps), with a minimum 190 and maximum 280.
| Processor | Graphics Card | Memory | Minecraft |
| --- | --- | --- | --- |
| Intel Core i3-4150 3.5GHz | EVGA GeForce 750 Ti 2GB SC | 8GB DDR3 | 1.8.1 |