Archive
This post is archived and may contain outdated information. It has been set to 'noindex' and should stop showing up in search results.
Best Solid State Drives for 2017 (2.5-Inch Internal SSD)
Here are my picks for the best solid state drives for May 2017. This list is divided into three different size classes (small, medium, and large).
Small: 240GB, 250GB, 256GB
Medium: 480GB, 500GB, 512GB, 525GB
Large: 960GB, 1TB
Small Size Class
Small SSDs are most often used as the boot and application drive of a system, with a secondary hard disk drive storing games and media. If you're not a big gamer and don't store much media on your PC, you can also get away with this size being your only drive.
1. Samsung 850 EVO 250GB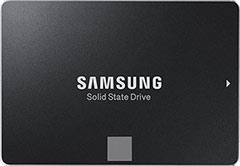 The Samsung EVO series has been one of the best bang-for-the-buck solid state drives for some time now, and the 850 EVO 250GB is no exception. It is economically-priced and near the top in terms of real-world performance (3rd place among drives tested at
UserBenchmark
). It's not quite as fast as the Samsung 850 Pro, but its much lower price makes it a better choice in this size class, which tends to skew towards budget-minded consumers. I personally use this drive in two PCs and a laptop.
2. Samsung 850 Pro 256GB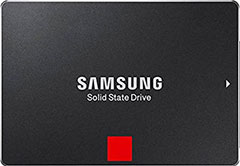 The Samsung 850 Pro 256GB is the fastest in real-world testing on
UserBenchmark
. It is also 6GB larger in capacity than the Samsung 850 EVO. However, its 40% higher price makes it not quite as attractive of an option in this small size class. It mostly excels over the EVO in write performance, but with such a small drive you probably won't be doing heavy write operations (like media encoding or screen recording).
Medium Size Class
Medium SSDs are large enough to be the only drive used in most PCs. They're still a bit small if you're storing lots of media, doing video production, or want to have more than a few of the latest games installed at a time (
Doom
is 80GB alone!).
1. Samsung 850 EVO 500GB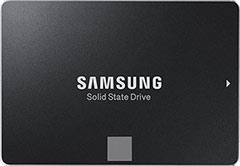 Just like with the small size class, the Samsung EVO provides the best bang-for-the-buck in the medium size class, with one caveat: If you do a lot of write-heavy operations on your computer, like screen recording or media encoding, then you may want to consider the 850 Pro instead (see below).
2. Samsung 850 Pro 512GB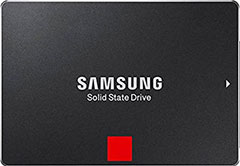 The Samsung 850 Pro 512GB is the fastest in real-world testing on
UserBenchmark
. It is about 40% more expensive than the EVO though, with very similar read performance. If you do any sort of time-sensitive write operations, such as screen recording while streaming, then it may be worth it to get this over the EVO.
Large Size Class
Large SSDs are excellent when you want to do just about anything without needing a secondary traditional drive. Perfect for media production machines and high-powered gaming rigs.
1. Samsung 850 Pro 1TB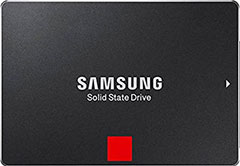 Unlike the smaller size classes where the 850 Pro is 40% more expensive than the EVO, in the large class it is only 30% more expensive. It is also the fastest overall solid state drive in real-world testing on
UserBenchmark
. That combined with the more power-user nature of needing a large SSD makes it the first choice in this size class.
2. Samsung 850 EVO 1TB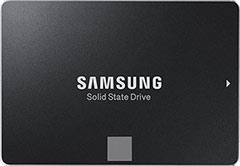 The Samsung 850 EVO 1TB is still a solid choice in the large size class. Just like the other sizes, it lacks write speed compared to the 850 Pro, but is otherwise very close in performance. This is a great choice if you need a lot of fast storage space, but aren't doing a lot of write-intensive operations. For example in a high-end gaming rig that needs hundreds of GB for game storage, but is still doing mostly read operations.