Outlook.com vs Yahoo Mail vs Gmail - Reliability, Downtime, And Problems
Please note that this post is over a year old and may contain outdated information.
Gmail, Yahoo Mail, and Outlook (a.k.a. Hotmail or Live Mail) are the three most popular web email platforms. Here is a compilation of the available problem report data to help figure out which one is the most reliable.
Using
DownDetector
, I wrote a script to count the number of problem days at each of these three email service providers from June 2013 to September 2014 (14 months). This is general data about problems reported on each service; it is not broken down on the type of problem. Most of the problems are related to the inability to access the inbox or log in.
Problem Results
Here are the number of days from June 2013 to September 2014 where problems were reported with each service provider. Lower is better.
And a bar graph: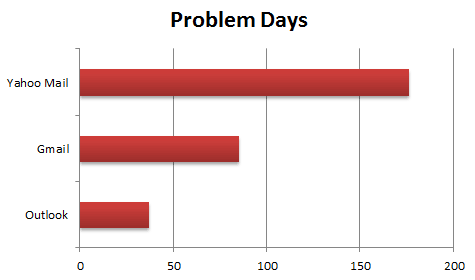 Summary
I've personally experienced persistent problems accessing Yahoo Mail over many weeks, which lead to this inquiry. If you're setting up a new email account, I would recommend steering clear of Yahoo Mail for the time being.
Problem Report Raw Data
Here are each of the days where problems were reported on DownDetector:
Outlook
2014-09-15, 2014-09-05, 2014-09-04, 2014-09-04, 2014-09-03, 2014-09-02, 2014-09-02, 2014-08-28, 2014-08-12, 2014-08-06, 2014-07-10, 2014-07-01, 2014-06-24, 2014-06-02, 2014-05-23, 2014-05-07, 2014-04-25, 2014-04-11, 2014-04-08, 2014-03-27, 2014-03-01, 2014-02-16, 2014-02-06, 2014-02-05, 2014-02-04, 2014-02-03, 2014-01-29, 2014-01-28, 2014-01-27, 2014-01-24, 2014-01-24, 2014-01-16, 2014-01-14, 2013-11-21, 2013-11-18, 2013-10-19, 2013-10-06, 2013-09-09, 2013-09-06, 2013-08-14
Total problem days: 37
Yahoo Mail
2014-09-24, 2014-09-23, 2014-09-23, 2014-09-22, 2014-09-22, 2014-09-22, 2014-09-18, 2014-09-17, 2014-09-17, 2014-09-16, 2014-09-15, 2014-09-12, 2014-09-12, 2014-09-11, 2014-09-11, 2014-09-10, 2014-09-10, 2014-09-09, 2014-09-09, 2014-09-08, 2014-09-08, 2014-09-05, 2014-09-04, 2014-09-02, 2014-08-29, 2014-08-28, 2014-08-28, 2014-08-26, 2014-08-25, 2014-08-25, 2014-08-24, 2014-08-24, 2014-08-22, 2014-08-21, 2014-08-21, 2014-08-20, 2014-08-20, 2014-08-19, 2014-08-19, 2014-08-18, 2014-08-18, 2014-08-17, 2014-08-16, 2014-08-15, 2014-08-14, 2014-08-13, 2014-08-07, 2014-07-30, 2014-07-24, 2014-07-23, 2014-07-23, 2014-07-22, 2014-07-14, 2014-07-11, 2014-07-10, 2014-07-10, 2014-07-09, 2014-07-08, 2014-07-07, 2014-07-02, 2014-07-01, 2014-07-01, 2014-06-30, 2014-06-27, 2014-06-27, 2014-06-26, 2014-06-26, 2014-06-25, 2014-06-24, 2014-06-19, 2014-06-19, 2014-06-18, 2014-06-17, 2014-06-16, 2014-06-12, 2014-06-12, 2014-06-11, 2014-06-10, 2014-06-10, 2014-06-09, 2014-06-08, 2014-06-08, 2014-06-07, 2014-06-06, 2014-06-06, 2014-06-05, 2014-06-05, 2014-06-04, 2014-06-04, 2014-06-04, 2014-06-03, 2014-06-03, 2014-06-03, 2014-06-02, 2014-05-29, 2014-05-28, 2014-05-27, 2014-05-22, 2014-05-20, 2014-05-19, 2014-05-15, 2014-05-14, 2014-05-13, 2014-05-13, 2014-05-11, 2014-05-09, 2014-05-08, 2014-05-08, 2014-05-07, 2014-05-06, 2014-05-05, 2014-05-02, 2014-05-01, 2014-04-30, 2014-04-30, 2014-04-29, 2014-04-29, 2014-04-28, 2014-04-27, 2014-04-25, 2014-04-24, 2014-04-24, 2014-04-23, 2014-04-22, 2014-04-22, 2014-04-21, 2014-04-20, 2014-04-18, 2014-04-17, 2014-04-17, 2014-04-15, 2014-04-15, 2014-04-14, 2014-04-14, 2014-04-13, 2014-04-12, 2014-04-11, 2014-04-10, 2014-04-09, 2014-04-08, 2014-04-08, 2014-04-07, 2014-04-07, 2014-04-06, 2014-04-05, 2014-04-04, 2014-04-03, 2014-04-01, 2014-04-01, 2014-04-01, 2014-03-31, 2014-03-28, 2014-03-27, 2014-03-27, 2014-03-26, 2014-03-26, 2014-03-25, 2014-03-25, 2014-03-24, 2014-03-24, 2014-03-23, 2014-03-22, 2014-03-21, 2014-03-21, 2014-03-20, 2014-03-20, 2014-03-19, 2014-03-19, 2014-03-18, 2014-03-17, 2014-03-16, 2014-03-13, 2014-03-12, 2014-03-10, 2014-03-07, 2014-03-06, 2014-03-05, 2014-03-04, 2014-03-04, 2014-03-03, 2014-02-20, 2014-02-20, 2014-02-19, 2014-02-18, 2014-02-18, 2014-02-17, 2014-02-17, 2014-02-14, 2014-02-13, 2014-02-12, 2014-02-12, 2014-02-11, 2014-02-11, 2014-02-10, 2014-02-07, 2014-02-06, 2014-02-05, 2014-02-05, 2014-02-04, 2014-02-03, 2014-01-31, 2014-01-30, 2014-01-29, 2014-01-28, 2014-01-27, 2014-01-27, 2014-01-26, 2014-01-25, 2014-01-24, 2014-01-24, 2014-01-21, 2014-01-16, 2014-01-14, 2014-01-10, 2014-01-08, 2014-01-07, 2014-01-06, 2013-12-24, 2013-12-20, 2013-12-12, 2013-12-11, 2013-12-10, 2013-12-02, 2013-11-25, 2013-11-20, 2013-10-25, 2013-10-07, 2013-09-25, 2013-09-12, 2013-09-10, 2013-09-05, 2013-09-02, 2013-08-22, 2013-07-18, 2013-07-12, 2013-07-01
Total problem days: 176
Gmail
2014-09-24, 2014-09-23, 2014-09-22, 2014-09-19, 2014-09-18, 2014-09-17, 2014-09-16, 2014-09-16, 2014-09-15, 2014-09-15, 2014-09-12, 2014-09-11, 2014-09-10, 2014-09-09, 2014-09-08, 2014-09-05, 2014-09-04, 2014-09-02, 2014-08-29, 2014-08-28, 2014-08-27, 2014-08-26, 2014-08-25, 2014-08-20, 2014-08-19, 2014-08-18, 2014-08-14, 2014-08-13, 2014-08-12, 2014-08-11, 2014-08-11, 2014-08-07, 2014-08-06, 2014-08-06, 2014-08-05, 2014-07-28, 2014-07-25, 2014-07-23, 2014-07-09, 2014-07-07, 2014-07-03, 2014-06-30, 2014-06-27, 2014-06-26, 2014-06-24, 2014-06-23, 2014-06-19, 2014-06-18, 2014-06-16, 2014-06-10, 2014-06-05, 2014-06-04, 2014-06-02, 2014-06-01, 2014-06-01, 2014-05-30, 2014-05-29, 2014-05-28, 2014-05-28, 2014-05-28, 2014-05-28, 2014-05-24, 2014-05-16, 2014-05-05, 2014-04-28, 2014-04-23, 2014-04-15, 2014-04-10, 2014-04-09, 2014-04-04, 2014-04-02, 2014-04-01, 2014-03-25, 2014-03-20, 2014-03-19, 2014-03-18, 2014-03-17, 2014-03-05, 2014-03-04, 2014-03-03, 2014-02-25, 2014-02-24, 2014-02-20, 2014-02-18, 2014-01-28, 2014-01-27, 2014-01-24, 2013-10-31, 2013-10-25, 2013-10-10, 2013-09-23, 2013-09-19, 2013-07-10
Total problem days: 85