Operating System Usage Share Data For H3XED Website August 2014
Please note that this post is over a year old and may contain outdated information.
Below you'll find a chart showing the operating system usage data for H3XED in August 2014. The website caters to PC gamers and web developers primarily, with general information on YouTube, Facebook, and other websites.
These stats are for sessions (not hits) as reported by Google Analytics.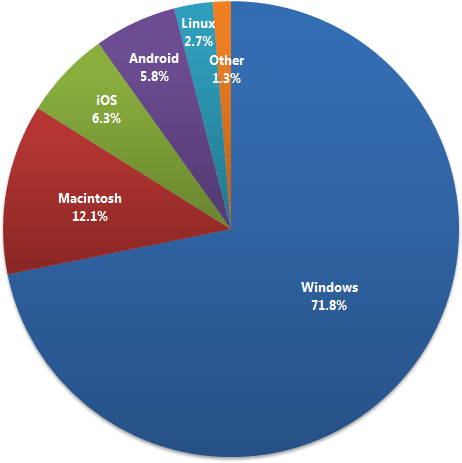 Here is the data in a more detailed table.
| | |
| --- | --- |
| Windows | 71.84% |
| Macintosh | 12.09% |
| iOS | 6.25% |
| Android | 5.84% |
| Linux | 2.72% |
| Windows Phone | 0.22% |
| Chrome OS | 0.15% |
| BlackBerry | 0.12% |
| SymbianOS | 0.12% |
| Other | 0.65% |