Try out Imooge, a Fast, Free, and Private Image Host
Please note that this post is over a year old and may contain outdated information.
I created a simple image hosting website with speed and ease of use as the main goals. I felt that other image hosts are either too slow, have too many ads, or require too many steps to get to and upload images.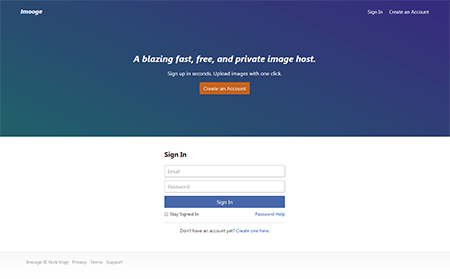 https://imooge.net
I'd appreciate any feedback on the design or user experience. Imooge was built from the ground up with speed and simplicity as its primary focus.
Http Requests
Imooge has no additional http requests for scripts, css, or images, so it loads extremely quick. Here is the GTMetrix score for the front page:

Keyboard Shortcuts
Imooge has keyboard shortcuts to quickly move between images, delete, or return to the index.
HTTPS
Imooge forces https for any page that passes sensitive information.
Storage Limits
Current storage limits are in place so I don't blow up my server. If the site gets popular limits will be opened up along with new servers.
View limits here
.