How To Enable Adblock in Chrome Incognito Mode (Private Browsing)
Please note that this post is over a year old and may contain outdated information.
By default Google Chrome disables your extensions for Incognito windows. This is in general a good practice since extensions can collect and store private data. However, it can be particularly irritating to not have an ad blocker enabled. Full-screen popups, flashing banner ads, "fake" links littered throughout a text document, and other horrors.
Luckily, you can quickly enable your extensions in Incognito mode by going to
Tools -> Extensions
from the menu button and clicking the "Allow in incognito" checkbox next to the extensions you want: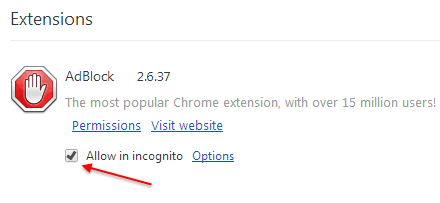 uBlock, AdBlock, and AdBlock Plus can be enabled for Incognito mode in this way.