Automaker Website Load Times From September 2008
Please note that this post is over a year old and may contain outdated information.
When searching for new vehicle specifications, photos, and other information, most people turn to the manufacturer's official website first. These websites all list the most commonly desired information and media, and are generally a good place to start.
I performed a timed tests for all of the major vehicle manufacturer's websites. I timed how long it takes until the vehicle model list is available and clickable (first time in the grey box), and the total time for all elements to load (second time following "Total:"). These times were all taken more than once to assure some degree of accuracy.
I used a clean browser (emptied cache) with the manufacturer's URL typed into the address bar for each run, and a hand-held stop watch. For the browser and connection, I used IE 6 and DSL, which is on the slower end but for which these websites still need to work well with.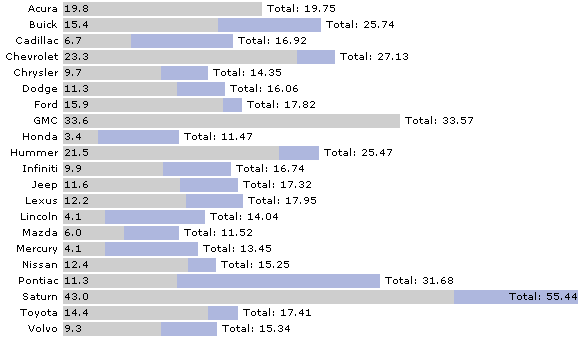 From these results, it is clear to see that many manufacturer's websites are not optimized well, or have too much content on their main page. There were only 5 manufacturers that I would consider "excellent" in terms of how fast their websites load on a lower end connection, and those are Cadillac, Honda, Lincoln, Mazda, and Mercury. Honda's website takes the prize for both fastest loading of the model selection and fastest overall load time. Being able to go to their website on a slow connection and select a vehicle in 3.4 seconds shows a very high degree of proficiency in the developers that built the website. Mazda's website loads just as quickly overall, but the speed in which the model selector comes up is a bit slower.