Archive
This post is archived and may contain outdated information. It has been set to 'noindex' and should stop showing up in search results.
Tesla Federal Tax Credit 2018 Expiration/Phase-Out Schedule
The federal tax credit for electric vehicle purchases begins to phase out for an automaker once that automaker sells 200,000 electric vehicles. Once the phase out begins, the full tax credit ($7,500 for Tesla) is still available for the quarter they hit 200k in and the following quarter. After that it goes down to 50% for two quarters ($3,750), and finally 25% for two more quarters ($1,875).
Expiration Chart
At the time of writing, it's unknown when Tesla will exactly hit 200,000 deliveries. It may have already occurred in late June 2018 or will occur in July 2018. A few days difference can make a major impact, as you can see in this chart: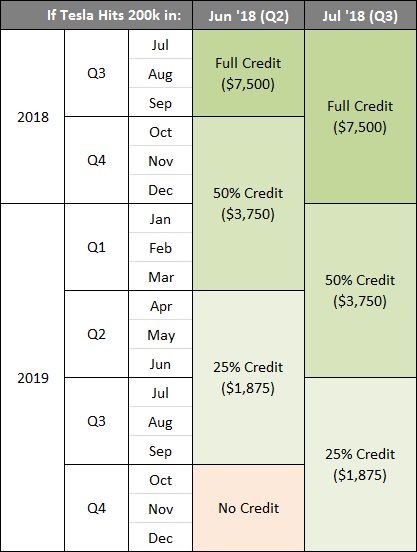 Did Tesla Delay Deliveries?
There has been a lot of speculation that Tesla delayed deliveries until July in order to not hit 200k in June. It wouldn't be out of character for someone like Elon Musk to do that, which could potentially save his customers over $200 million (assuming 5000 deliveries per week, 13 weeks per quarter, and $3,750 saved per delivery). It will also give his company another 3 months before he loses some competitive advantage to other EV automakers that are just entering the market.