January 24, 2012 PC Gaming
START A MINECRAFT SERVER AND PLAY WITH YOUR FRIENDS OVER THE INTERNET OR A LAN

Setting up a Minecraft server on your home Windows computer is fairly easy. With basic knowledge of computers and networking, you can be playing with friends over a local area network (LAN) or the Internet in minutes. Just make sure your computer is up to the task. You should have at least a 2ghz dual-core processor (CPU), 2 gigabytes of memory (RAM), and a fast Internet connection (if your friends are connecting via the Internet). Not sure if it'll work? The only way to know for sure is to give it a try! So read on.
Step 1: Download Minecraft Server
Download
Minecraft_Server.exe
from the official Minecraft server page at
www.minecraft.net/download
. Put it in a folder somewhere and double-click it. It'll launch the server application and create a bunch of files inside of the folder it's in. A new Minecraft world is created automatically.
The server is controlled using server commands that you enter in the text input field. View the
basic server commands here
and familiarize yourself with them. At the very least, know how to use
stop
, which safely closes down the server and saves the world.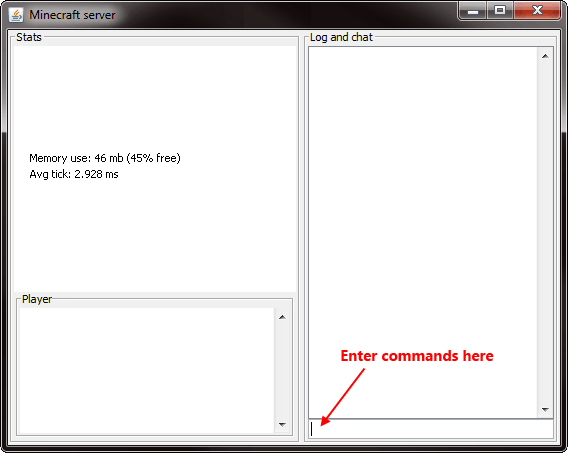 Step 2: Connect to Your Server
Open your regular Minecraft game, log in, and click on
Multiplayer
. There are three ways to connect to your server:
On the same computer
If you're playing Minecraft on the same computer as the Minecraft server, connect to
127.0.0.1
: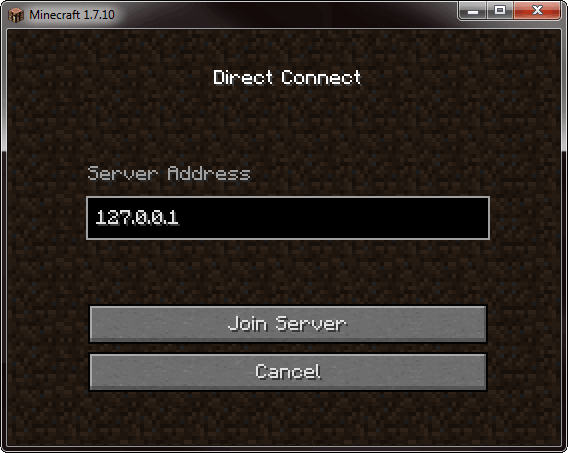 On another computer in the network
If you're on another computer in the local network, connect to the local IP address of the computer that's running the server. To find this, go to the computer that's running the server and type
ipconfig
into a
command prompt
. The IP address should look similar to
192.168.1.xxx
. Mine is 192.168.1.2 for my main PC on my home network. For example, if I have Minecraft server running on my main PC and wanted to connect to it from another PC in my local network, I would type that IP address in: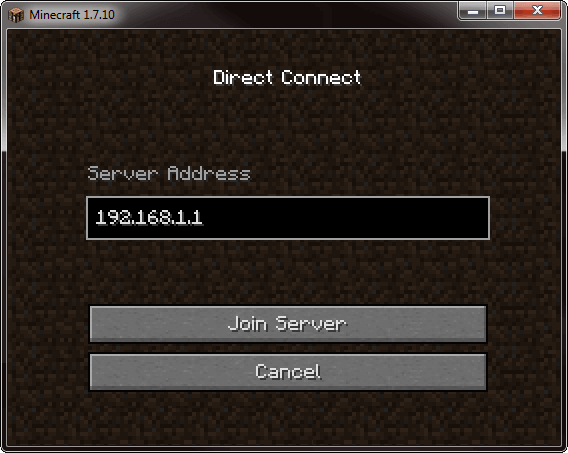 (The above is an example IP address only)
Over the Internet
To connect to the Minecraft server over the Internet, you'll need to know the external IP address the Minecraft server. You can find it by browsing to
www.whatismyip.com
while on the Minecraft server. Just like the local IP address, it will be 4 sets of numbers separated by periods. It may look something like 65.214.224.57.
If the computer that the Minecraft server is on is connected via a router to the Internet modem, which it should be for
security reasons
, then you'll have to make sure the router is properly port forwarding Minecraft Internet traffic to the computer that has Minecraft server on it (even if you only have the one computer).
Port forwarding is something your router does so that it sends the right type of traffic to the right computer. Minecraft uses port 25565, so the router needs to be setup to send any traffic on port 25565 to the computer that has the Minecraft server.
Go to
www.portforward.com
, scroll down and select your router model. The model number is usually listed on the front or back of your router. If you are shown an advertisement for a port forwarding program, click "skip this advertisement" at the top.
Next, select the game you want to port forward for, which is "Minecraft Server" in this case. It may tell you that you need a static IP address. It's referring to the internal IP address. Every time a computer is connected to your router, or turned on, the router assigns it a local IP address. It usually stays the same but can sometimes change. So you may have to update the settings if you were to disconnect the computer from the router or shut it down. If you run Minecraft server a lot and shut down your computer often, you may want to look into giving your computers
static local IP addresses
.
Once you've forwarded port 25565 to the correct computer, you can test it at
www.yougetsignal.com/tools/open-ports
. Be sure to check for port 25565 (80 is the default port for website traffic). For additional troubleshooting, see the
Minecraft server install wiki
.
Keep in mind that both your external and local IP addresses may change when you shut down your computer or reset your modem. Each time you start your server, be sure to double-check your internal and external IP address, and update settings accordingly.
Now that your Minecraft server is properly setup, you can send your external IP address to your friends and have them connect to your Minecraft server over the Internet: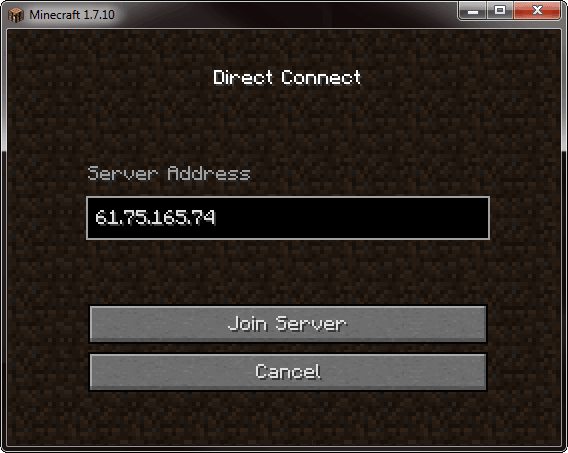 (The above is an example IP address only)
Related articles:
Post Author
Nick Vogt
Post Tags
pc gaming, minecraft, server